Many streaming companies are attracted to India because of its improved internet infrastructure. Currently, Hotstar is the largest streaming facility which gained 150 million active monthly users by offering most of the local channels.
Netflix and Amazon are trying hard to beat the competition with Hotstar. Recent days Indians are showing interest in online streaming channels but again it depends on the monthly or yearly charges.
Netflix is the largest streaming company in the US is charging ₹500 per month in India. Whereas Amazon prime video monthly membership is ₹129 which is almost the same as the monthly Digital TV subscription. Along with Prime Video subscribers can also enjoy music, fastest delivery and prime deals on Amazon.
Considering Indian Internet usage in mind, these days Amazon is concentrating more on Indian Entertainment stuff. Currently, there are many Hindi shows on Amazon Prime and most of them are Prime ORIGINALS.
Counting all the benefits from Amazon Prime video over Netflix I must say Amazon is way ahead to beat the competition from Netflix. Try taking Amazon subscription for a month I'm sure you are gonna enjoy the movies and shows.
Here is the list of Hindi shows on Amazon Prime;
1) Malgudi Days
"Malgudi Days" is one of the good old TV series based on R.K. Narayanan stories. Shankar Nag, well-known actor, director and producer from the Kannada film industry gave life to Malgudi Days and introduced Swami to all of us.
If you have missed watching it on Tele screen then here is the Good News; Amazon Prime Video is streaming this show all episodes are available. Malgudi Days brings the essence of innocence and everything about childhood making us nostalgic.
The story runs in a town "Malgudi" as imagined by the R.K.Narayan. Swami and his friends belong to this town and their life in Malgudi is the plot of the story. Since the book was written in 1943 you will see India before independence. There are few other stories included in the show which also revolve around the town Malgudi.
Malgudi Days was shot in Agumbe, Karnataka and most of the film crew is based from Karnataka. However, the entire show is created in Hindi even most of them were not good at speaking Hindi including the main character Swami. The entire crew has done a brilliant job in delivering Malgudi Days as expected the director Shankar Nag.
2) Mirzapur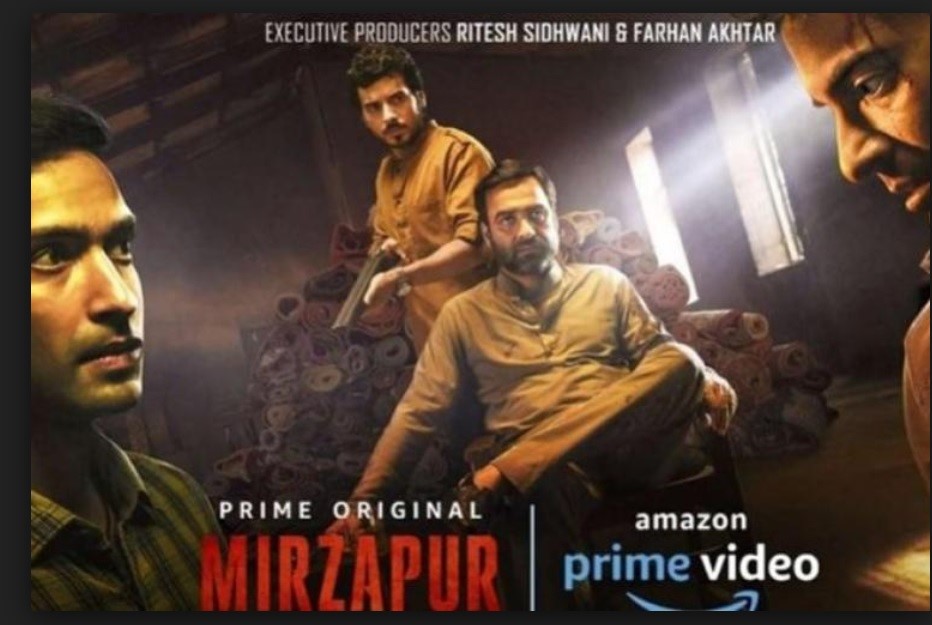 The making of this show will blow away your mind. The quality, the cinematography is not less than any Cinema. Before going to review, let me warn you! This series is full of foul language, crime and contains sexual scenes.
The story revolves around a man who is THE don of Mirzapur. He runs drugs business, involved in illegal activities, and always breaks the law. Every other common person in Mirzapur is tired of Khaleen Bhaiya's criminal activities but nobody has the question to question him.
While everyone has given up, there comes a man Ramakant Pandit, a lawyer who takes a case against Khaleen Bhaiyaa. Situations turn upside down which makes Ramakant's sons Guddu & Bablu join Khaleen Bhaiya. Khaleen's son Munna is one unsatisfied soul who wants to come to power & take Mirzapur under his control.
Money and power attract them but they never imagined their future. Series of Incidents take place and the climax has an unexpected twist.
I'm eagerly waiting for the second season to know what happens with Khaleen Bhaiya, & Ramakath Pandit's family.
If you are interested in Crime thrillers then Mirzapur should be in your list.
3) The Family Man
The Family Man has Manoj Bhajpayee in the main lead. Along with Manoj, Priyamani, Kannada actress who has worked in Tamil, Telugu, Malayalam & Hindi is in the show as the wife of the family man. She is frustrated for managing things alone, stressed by her husband's behaviour who never spends time with her, handling kids, and fighting herself to not to fall in the trap of an affair. She has given her best as Suchi.
As the show highlights, it is inspired by daily events. They have picked up some of the hot discussions that India is facing currently and knitted them together to make a story out of it.
The story runs around the mission Zulfikar which is planned by a group of terrorists. How they will find the criminals with the help of available clues, hints, and links is the plot of 'The Family Man'.
Srikant Tiwari is a family man with a wife and two kids working as a special officer in the NIA (National Intelligence Agency). He is always busy chasing criminals, finding out terrorist plan, training junior associates and many other things. His family and friends are fed up of his unavailability during family gatherings yet for Srikant, Nation comes first.
There are 10 episodes, each with almost 50-60 minutes duration.
4) The Forgotten Army – Azadi Ke Liye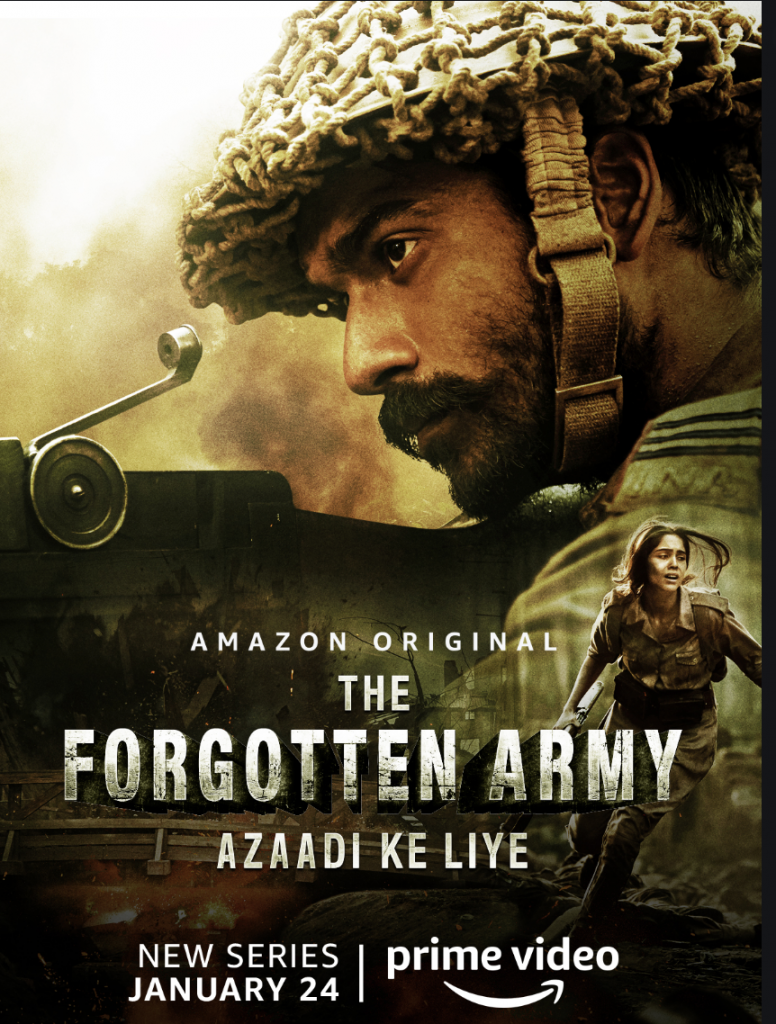 Most of us have read about the Indian National Army (INA) founded by Netaji Subhash Chandra Bose. Apart from this, we don't have much knowledge about this army. What happened to them, How they survived in Singapore, all such questions have remained unanswered.
Director Kabir Khan has worked on this aspect and tried to showcase the history of INA in the series The Forgotten Army (TFA). The series is based on a documentary which was telecasted in Doordarshan in 1999.  The first season was released in January 2020 with 5 episodes each with a duration of 30 – 35 minutes.
The series showcases series of events from World War II to Maynamar fight. Captain Sodhi is in the main lead who is recalling his memories of INA with his grandchild Amar. Hence the story switches between current(1996) and 1946. Many volunteers join INA in Malaysia & Singapore. Rani Jhansi regiment is the first women regiment in the history of war where women were trained for the freedom fighters. INA started Rani Jhansi regiment and Maya, a young photojournalist is one of the women to join voluntarily. There is a romantic saga between captain Sodhi & Maya throughout the series.
Every episode has Sharukh Khan's voice as a background narrator who gives a glimpse of the INA history. The cinematography is brilliant especially the war scenes. The perfectly chosen cast makes this series more appealing. However, 5 episodes are quite less to show the history of such an aspiring army. Overall it is one of the best Hindi series to watch on Amazon Prime Video.
5) Breathe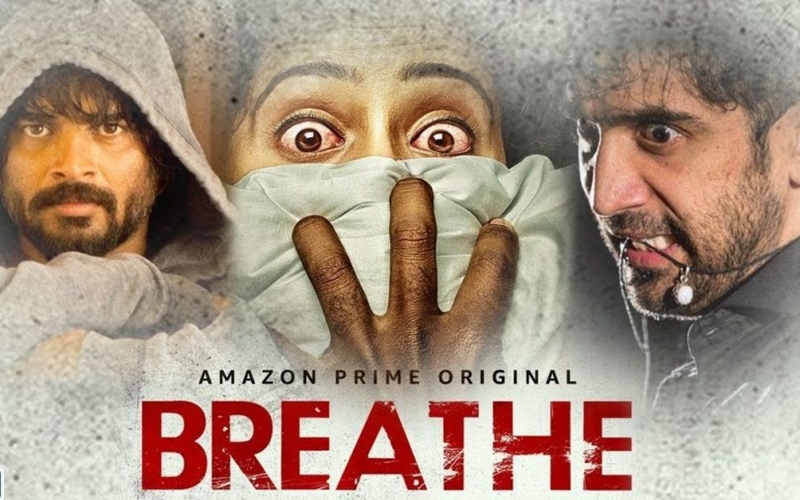 How far can you go to protect your loved ones? Women stealing bread might look like a thief to society but she will be a hero to her children who can satisfy their hunger. This doesn't mean that society should accept sympathy based crimes. Crime is always a crime. Breathe is one of such series which makes you think who is right and what is right.
Amazon along with Madhavan created this crime thriller show 'Breathe' which shows the extraordinary circumstances faced by an Ordinary man to save his dying child. This is one of the best Hindi web series on Amazon Prime. Madhavan acted as a caring, loving single parent to a 6-year-old son Josh. Everything goes upside down when Danny (Madhavan) came to know about Josh's Congenital lung disease.
Josh can be survived only by the organ donation. God has not given them any choice other than waiting for an organ donor to die. As time passes Danny gets more tensed about his son's life. What can be more heartbreaking than watching your kid die in front of your eyes? Danny finds his own ways to save Josh.
Along with Danny-Josh story, a story of a cop runs parallel. This cop who is investigating series murders of Organ donors is repenting about the death of his own daughter.
What happened to Josh & Danny cannot be revealed because that is where the suspense of the story lies. Amith Sadh has given his best as a tough and rough cop. Atharva(Josh) calling his father as 'Daada' is the cutest in the entire series. Madhavan being in the lead role will not disappoint you. Breathe is one of the worth watching show in Amazon prime.
6) Inside Edge
Are you a cricket fan? Then you should definitely watch this series. It depicts some dark secrets, ugly truths of India's most admired sport.
Inside Edge is the first Hindi Web series by Prime Originals.  Cricket is mainly played by politics, bribery, eluding, crisis, fixing, Inferiority complex, pressure, sex, fame, ego… This show is based on Indian Premiere league, series of incidents that takes place from the first match of Powerplay league till the final.
Every episode has its own twists and surprise elements. As the commentary continues for every ball you will be jumping out of curiosity to know what happens next. Inside edge show is proof how Cricket has become business than a sport in India.
Vivek Oberoi has got a good role to make his comeback. His acting is too static compared to others in the show. He could have given more weight to his character. Richa, Angad (Arvind), Tanuj (Vayu), Siddant (Prashanth), Amit (Devendar), Sayani (Rohini) who covers most of the screenplay have given their best.
I must say Inside Edge is one of the best Indian TV Show that was created based on real incidents.
7) Panchayat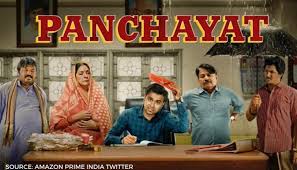 TVF is back with a bang! This time on Amazon Prime Video. Quality of TVF shows has always been amazing and their script is worth watching! Out of Top 10 Hindi Web Series on Youtube, five are from TVF. After the enormous success and huge fan following TVF started their own App and moved all the shows from Youtube so that they can monetize the content.
There was a gap in between and then cam the Kota Factory! TVF proved again that when it comes to the quality of the content nobody can beat it. This time TVF had spread its wings to Amazon Prime Video to bring their new TV Show 'Panchayat'.
TVF star, most famously known as Jeetu Bhaiyya is in the lead role. Raghubir Yadav and Neena Gupta bring more shine to the show with their experienced acting. The show is about a guy who is an engineer but ends up being a Panchayat secretary in a village because of the lack of job.
The show is about his frustration towards his life, village life and the whole Panchayat system. Panchayat is a smile yet a beautiful story addressing the real concerns of society.
Hope TVF continues to produce more and more such shows making Indian content rich on Amazon Prime.
8) Afsos
Story of a man who hires an assassin to kill himself! Yes, you might be wondering what kind of crazy or psychic this man is and that is what Afsos is made of.
After many failed attempts to take his life, Nakul hires an assassin to kill himself. The assassin is known for her job commitment and she never leaves her job unfinished.
However, Nakul changes his mind and wants to live. Most importantly he has to escape from the assassin. The story continues with the assassin chasing Nakul to complete her job.
Heeba and Assasin are the assassins and her pray in the main lead. Afsos makes you glued to the TV and finish episode after episode with its interesting twists.
9) Hostel Daze

Any movie or series if it is made on Engineering or hosel life then definitely it will reach more people. Most of us have experienced hostel life and a common engineering degree is the main reason for this success history.
Hostel Daze is one such series based on Engineering students and their hostel life. Four students(Ankit, Chirag, Jaat, and Jhantoo) from the same wing meet each other and start exploring their hostel life. Their bonding, debates, clashes, semester preparation etc is the story plot.
Though the story is not fresh, the entire cast has given their best to give a fresh feeling. You will not be bored and binge-watch the entire season. Hostel Daze shooting was done in Symbiosis Institute of Technology (SIT), Pune.
10) Made in Heaven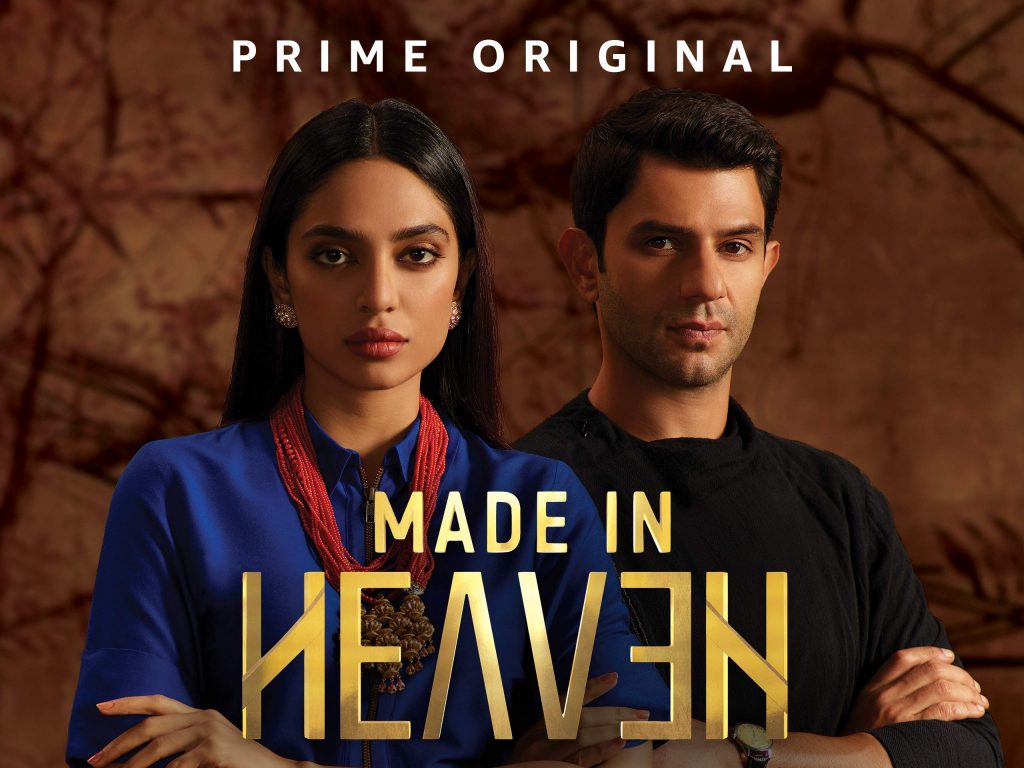 India is famous for Spices, Internet usage, cricket craze, food, and many other things. Indian wedding is one such thing about which people love to talk worldwide. Indian weddings are huge with lots of traditions, people, food, colors and it runs from days to months. 'Made in Heaven' is based on Indian weddings and the associated drama around it.
Tara and Karan are Delhi based wedding planners, running their wedding planner agency under the name 'Made in Heaven'. Wedding is the place where old meets new, tradition meets modern touch creating conflicts between younger and older generations.
I'm glad to see that the creators Zoya Akhtar and Reema Kagti have come up with such a brilliant show. Made in heaven highlights the real problems with Indian weddings. Dowry, virginity tests, generation conflict, sexual assaults, affairs, homophobia and what not!
To be frank it is one of the finest Indian series. There are only 9 episodes which will make you glued to the TV. The story narration is amazingly brilliant!
11) Laakhon Mein Ek
After watching Breathe I started searching for Hindi shows on Amazon Prime. To my surprise, the list was little big and Laakhon Mein Ek was one of them.
This show portrays the ugly realities of the Indian Education system. Laakhon Mein Ek is a story of a boy who wants to be a mimicry artist but his father forcibly admits him in IIT coaching institution.
Akash tries hard to study, struggles to get good grades but he couldn't help himself to cope up with the syllabus. This puts a lot of pressure over a 15-year-old Boy which drives him crazy.
What makes this show more interesting that there is no dragging or overacting. It delivers exactly what it is made for. Most importantly it shows the hype of Indian coaching centres who act like profit-making machines.
Take away message is, not everyone can be an IITan, not everyone has to take science in their academics, education is important but doing what makes you happy is more important.
Since this is a teenager journey most of the actors are teenagers who have done an excellent job. Scripting, direction, screenplay, and acting is totally brilliant.
12) Pusphavalli
Pushpavalli, a Tamil Brahmin girl pursuing her food science degree in Bhopal, one day attends a food conference. There she meets the handsome hunk Nikhil from Bengaluru who was quite jovial with her. She takes him seriously and starts following him by crossing all the limits.
It feels like they have stretched the story little more than required. However, Sumukhi has done an excellent job in creating this series all by herself.
Acting-wise, Shraddha emerges as the best among all other characters. As a PG aunty, she makes you laugh with her 'Paashupalli' tone. Pankaj who is Pushpavalli's friend screams irritably and uses F-word in every sentence. Nikhil, Swati and other PG mates actings are fair enough for their respective roles.
13) Mind The Malhotras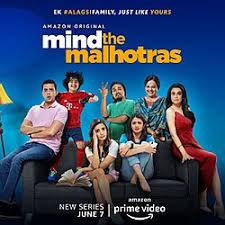 Co-produced by Dia Mirza, Mind The Malhotras is a complete family show based on Israeli comedy La Famiglia. The story revolves around the Malhotra family who is experiencing a mid-life crisis and contact therapist to solve their problems.
Malhotra couple Rishabh and Shefali Malhotra have three kids, 2 girls and one boy and Rishab's mother in their family. The couple were enjoying their not-so-perfect life but frightened to the core when one of their friends got divorced. This makes them seek the help of the therapist to prevent divorce and that's where the story starts to unfold.
Couple start explaining their problems in the sessions and how they cope up with each other's differences is the end of the story.
The plot is very light and can be watched along with kids. Married people can relate to most of the topics discussed in this series. The cast is perfect and in personal opinion, Shefali stands out from the entire crew with her energetic performance.
14) Four More Shots Please!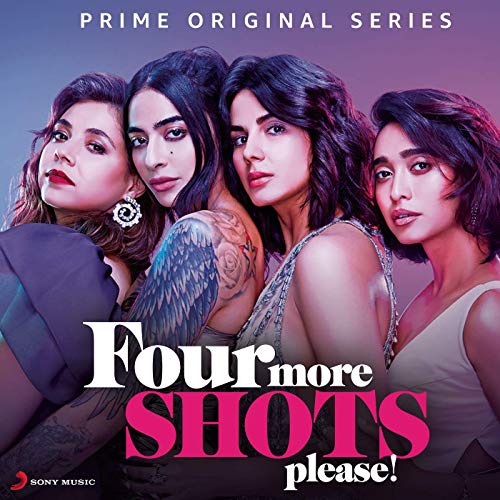 Four more shots please is the story of 4 women who meet each other accidentally in a bar. Then they develop friendship between each other sharing their stories and being part of each other's life.
They have their own problems hence the world looks complete naive to them. A complete feminist show (In fact, they have misunderstood the concept of feminism). They could have shown the female characters more strong by using this platform.
Four more shots please could have been better if they have highlighted the real problems that women are facing in recent times. Such as education for girls in villages, women in politics, sexism etc could have been highlighted in a better way.
The quality and making of this show are better but a lot of efforts has been wasted in proving the wrong concept of women empowerment. You can watch this show if you have lots of time or when there is nothing on your watch list.
15) Going Viral
Definitely not the Best Hindi Show on Amazon Prime. But Going Viral is an average show might interest people who are light-minded and loves sarcasm.
Life has become full of Social media, internet sensation, viral, trending, hashtag, likes, comments and subscribe. We have lost ourselves in the digital world. The Internet is like medicine, an overdose may cause many side effects.
Going viral is made on internet freaks who are stupid enough to believe anything from the web. Being famous in social media is like being rich in Monopoly. Nothing is permanent in e-world.
Going Viral is a startup company running by @Gaurav and his wife Natasha. They have a foreign sponsor who always wants to see Going viral videos on the top trending list. This company can make anybody viral on the internet. Though the show had made in a funny manner it showcases the true color of e-audience.
That's all folks! Watch these Hindi shows on Amazon Prime and let me know your opinion! Happy watching! #24x7newsalert